Music
I've had a lot of fun over the last few years making electronic music with a variety of different synths, both hardware and more recently software.
Collections
(downloads)
Streaming player
(requires Flash)
Being part of the (legal!) MP3.com days and later Ampcast means I've got to know a big list of great artists. Some of them are listed on this page, but there are many other independent people out there all making great music.
Finally, the obligatory "studio" shot - here's the corner of the living room in late 2005: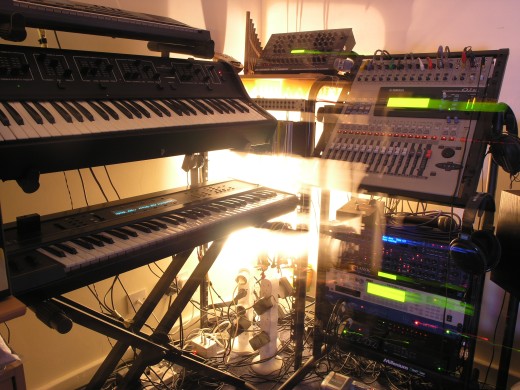 Top left: first keyboard I owned, the Casio HT-700. Underneath, an old pure analogue Russian synth, the Tom 1501. Underneath that, the Ensoniq ESQ-1. In the middle above the lamp is a Quasimidi Polymorph; to the right from the top down, the O1V mixer, Novation Supernova, Emu Classic Keys module, Korg Triton Rack, along with various patchbays, smaller sound modules and other sundry interfaces. Not much of the kit was new - there's a great second hand market for hardware - and not much of it is manufactured anymore either! I think you might still be able to buy a new Triton Rack, but that's about it.
I don't own any particularly rare kit; the popularity of software synths has dropped the price of most hardware by a lot anyway. In the past I preferred dedicated hardware since it doesn't need a computer to be turned on and isn't subject to the usual computer hiccups. After Windows Vista came out I gave up on Windows and moved to a Mac; the hardware turned out to bear near-silent and the OS very resilient, so I have since done plenty of work with software synthesisers.