Superchain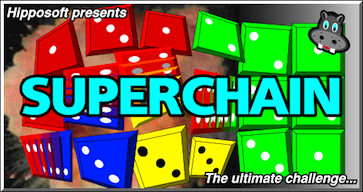 SuperChain is a board game for between two and eight human or computer players. The aim is to win! Win games by being the only player left on the board.
The current release of SuperChain is version 1.00 (31-Dec-2009). It has been briefly tested on VA5000 under RISC OS 3.1, on a "real" Risc PC under RISC OS 3.71, on VRPC under RISC OS 4.39 ("Adjust") and on an Iyonix under RISC OS 5.11 and 5.14. It also runs on the BeagleBoard.
Contents
When a game starts all spaces on the board are unclaimed. Players take turns to add pieces to a space they already own, or to an unclaimed space which then changes to their colour. Spots on claimed spaces show how many pieces have been added.

The trouble is, a SuperChain game board is unstable! Once a certain critical mass is reached in a given space, it explodes and scatters its pieces, adding them to adjacent spaces and changing them to the current player's colour. After exploding the space becomes unclaimed.



When an explosion adds pieces to adjacent spaces, those spaces may in turn reach critical mass and explode. As a result long chains of explosions can run all across the board. If you play well, this can lead to the other players losing all of their pieces and when this happens, you win! On the other hand if you lose all of your own pieces then you're out of the game.
The key to SuperChain is knowing the point at which a space is just about to explode and using this to attack other players or avoid being attacked by them. The critical mass of a space is equal to the number of immediately adjacent spaces it has.
For example, on a board of squares arranged like a Chess board, squares in the middle all have four neighbours - above, below, to the left and right. If you add 3 pieces to such a square, it is just below its critical mass. When you add a fourth it will explode. Squares in the corners only have two neighbours so explode quickly, upon the addition of a second piece. Squares along the edges have 3 neighbours and explode if a third piece is added.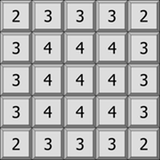 SuperChain has lots of different board designs, including triangles, squares and hexagons at various different rotations to come up with complex patterns of critical mass. Some boards even include corner triangles with only one adjacent shape – these explode as soon as a single piece is placed on them, so watch out! Don't go near them, or your own pieces will easily be taken over by another player.
Small boards give fast, furious games which can be over very quickly and do not forgive mistakes! Medium size boards are good to start with, as they are small enough for you to often predict the outcome of explosions but not so small as to leave no room for error. The largest boards can end up with a lot of pieces piled up, leading to lengthy chains of explosions and a loss of predictability, but can have plenty of nooks and crannies where one last shape owned by you might survive, ready for your next move.
Since the only way to take over another player's pieces is to make one of your own claimed spaces explode, spaces which explode at lower critical masses tend to be more strategically important at the start of games…

…but not on all board designs!

You might choose to build up a "defensive zone" of low mass, occupied shapes guarding a core of higher mass shapes all owned by you. Explosions from other players would reach the defensive zone and take over some of your shapes, but be unable to reach enough mass to let the explosion propagate further into your territory. Then you can consider detonating your own pieces in retaliation, but make sure the result doesn't leave you open to attack!

Scattering your pieces around a few zones of occupation, where possible, can help keep you in the game if you make a mistake in one zone, allowing it to be taken over. This approach works better with larger boards.

Remember that explosions run in chains. Often you want to take over shapes owned by another player but can't build a shape up to critical mass right next to an opponent's shape which is already at critical mass. See if you can build a path of adjacent shapes that if detonated would add to the same shape more than once, causing it to go from below critical mass, to exploding, all in one move.
To beat the computer players, you'll need to develop strategies that recognise which spaces are more important – or more dangerous – than others and of course, you'll have to keep your wits about you at all times. Even the random movement computer player skill level can be tough to beat if it's just you against seven of them.
Good luck and have fun!
Please consider using the forum to check for existing bugs and feature requests, or submit new entries. Alternatively, send me an e-mail message.